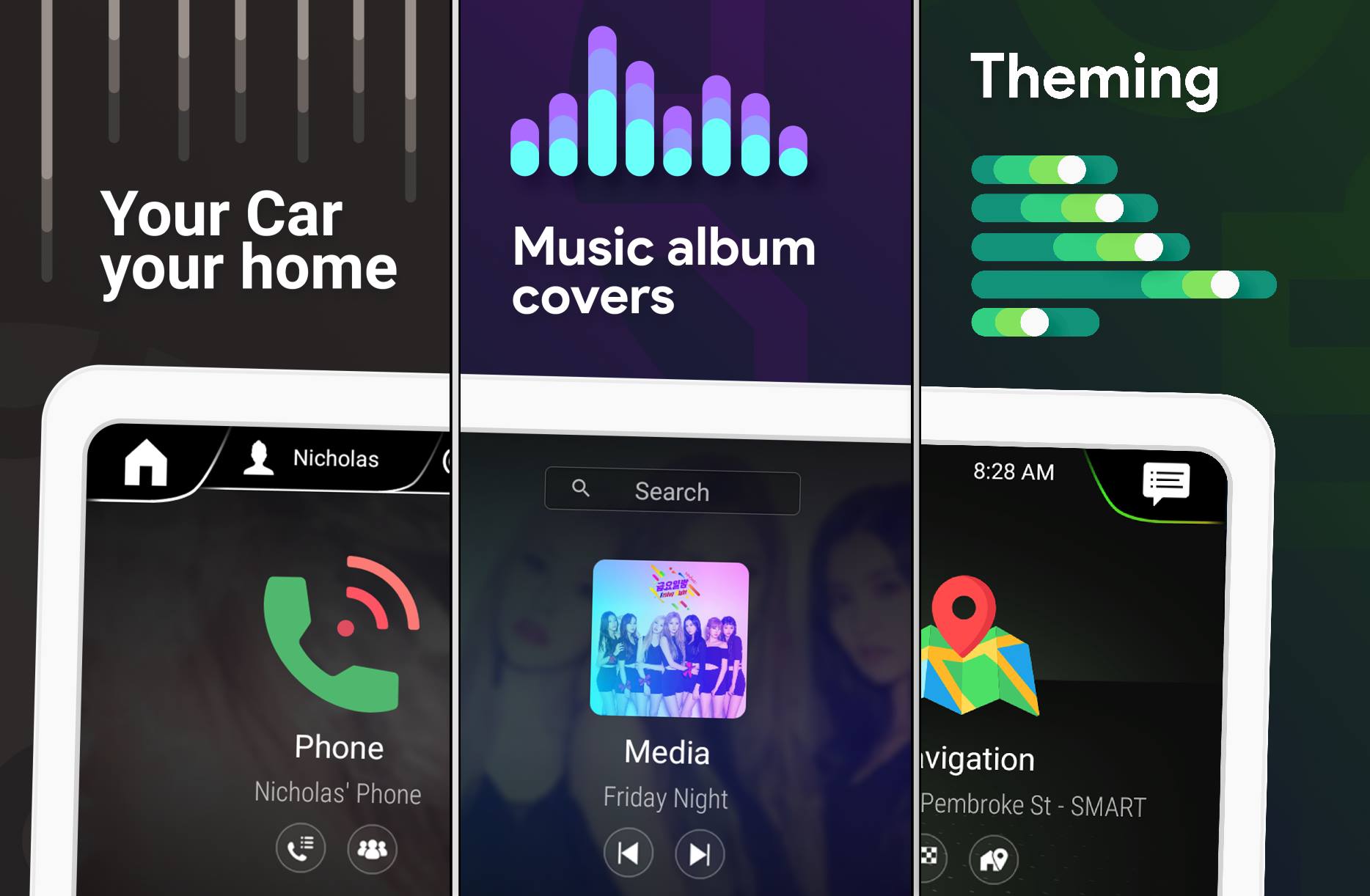 Introducing flowUX, a launcher inspired by many car-optimized user interfaces available on the market today.
We have worked with designers and developed a launcher from the ground up to feature the most beautiful animations, customized functionalities and performance that do not distract from the driving experience!
Main menu
The user is able to use their scrolling knob in their car to scroll between different tiles which provide different functions.

Navigation tile
When the user hovers over the Navigation tile, the user will be greeted with an overlay of a Google Map with their current live location. As the user drives, the position of the map will be updated to reflect the live location. The tile's subtitle will also display the closest street name to the car.


App drawer and app launching effects
The user is able to use their scrolling knob in their car to launch specific apps of their choosing. Just like a normal launcher, this app drawer also has functions to uninstall an app, or refresh when a new app is installed from the Play Store.

When launching apps from the home screen, a launcher-specific shared element transition is used to link an animation to the onCreate of the target application.

Music playback effects
When the user is playing music, through Spotify or any local media player, the background of the media tile will display the album artwork in a blurred fashion.


In Distraction Mode, the music video of the current playing song will be automatically identified through an algorithm and start playing behind the media tile alongside the music playback.

Community languages supported
🇨🇳 Chinese Simplified (Mainland) 🇭🇰 Chinese Traditional (HK / TW) 🇩🇪 Deutsche 🇳🇱 Dutch 🇬🇧 English 🇮🇹 Italian 🇰🇷 Korean 🇱🇹 Lithuanian 🇳🇴 Norwegian 🇵🇱 Polish 🇵🇹 Portuguese (Portugal) 🇷🇺 Russian 🇪🇸 Spanish